Mission Stories
Mission Stories
---
Joint Baltimore-Washington / Virginia team to Voronezh, Russia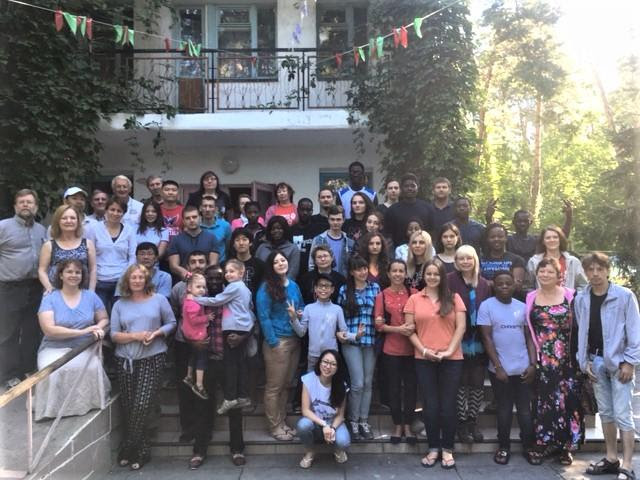 BALTIMORE-WASHINGTON/VIRGINIA UMVIM TEAM
"In early August we, a team made up of one person from the Virginia Conference and four from the Baltimore-Washington Conference, had the privilege of working with a "youth" (i.e., young adult) mission camp at Camp Kristall near Voronezh.  Our portfolio of projects included interior refurbishment work on a cottage which is being refit as handicapped-accessible, tiling in the washing room of the dining hall, providing assistance for the first phase of the re-roofing of the "tourist hotel", and constructing a new gazebo along the entrance walkway.  These were the work projects.
The great joy of the camp for us, though, was the chance to fellowship, worship, and labor with friends old and new, brothers and sisters in Christ from across Eurasia and international students from Africa who are studying in Russia, as we partnered to help improve and upgrade what is already a great asset for ministry and mission - the camp.  We prayed together, sang together, ate together, laughed together, worked together, got exhausted and then swam in the river or sat in the sauna together.  We heard each other's languages and each other's stories - and though we mostly could not understand the former, somehow we started to understand the latter, and to treasure each other more than ever.  We painted, scraped, plastered, hefted metal sheets, got tired and frustrated then enthused and moved to our very souls.  In all of this and more, we saw the hand of God at work and the face of Christ in one another."
Russians, Ukrainians, Africans, Americans: whatever we were, we are all Camp Kristall.  We are all In Mission Together.  For those few days together, we were the living expression of what John Wesley called "vital piety".  And just as much then, and now as we share about that time together, we are in some small way the fleshing out of what Jesus said when He told those first disciples, "You shall be my witnesses."
- Dr. Charles L. Harrell leads The In Ministry Together - Eurasia Committee (IMTEC) in the Baltimore-Washington Annual Conference. 
Upper New York Team Serves in West Virginia
(From the Whitney Point (NY) UMC August Newsletter)
Three members of Whitney Point UMC, Lisa Addington, Wayne Douglas, and Darlene Price along with Flat Jesus, spent the week of August 13-19 in the tiny town of Clendenin, West Virginia, sawing, hammering, spackling, sanding, sweeping, and also eating, sleeping, chatting, walking, and celebrating. The adventure: a flood recovery home-rebuilding project sponsored by the United Methodist Upper New York Volunteers in Mission (UNYVIM). The trip was led by Mike Block of Immanuel United Methodist Church in Camillus. Clendenin is a small town in West Virginia that shares many commonalities with our very own Whitney Point: a population of about a thousand, 22 miles to the nearest big grocery store, bordered by a (former) railroad track on one side and a river on the other. It was this branch of the Elk River that experienced a "tidal wave" of sorts on June 23, 2016, when torrential rain caused the river to flood, cresting at over 33 feet and causing widespread destruction. Mike Block of IUMC in Camillus is the Upper New York Conference Disaster Relief Coordinator. He has been organizing disaster recovery trips since 2007, including work in the Southern Tier in 2012 and 2013, with over 3000 hours and more than 100 volunteers helping out right here in our own backyard! Mike welcomed the three of us from WPUMC enthusiastically and provided outstanding leadership throughout the trip. The focus of this particular mission trip was to work on rebuilding two houses in Clendenin. Each of us had the opportunity to use our skills (and learn some new ones) with tasks such as mudding/sanding to prepare new walls for painting, and building window and door frames. We were blessed to be able to work with some very skilled men who gave us pointers and tips for producing the highest quality work that we were able. In reflecting on why they went on the trip and what they gained from it, Lisa, Wayne, and Darlene had the following comments: (Lisa): "I went on the trip hoping to renew my spirit as happens when we offer ourselves to somehow better the world. Getting to know a bunch of strangers and learning to work was one of the most rewarding parts for me. One of the most encouraging, and I will also admit surprising, parts of the trip for me was the fact that other than the youth group I was the youngest person there. Most of the men were between the ages of 65 and 75. Everyone was pretty beat at the end of the day, but everyone did what they could within their abilities. This just gave me hope that we can keep going and still have much to offer even when we no longer move as fast as a twentysomething. It also gives me ammunition for when I invite someone on a mission trip and they say, "oh, no, I'm too old for that." And now I can reply, "oh no you're not! Let me tell you about my friend Billy…." (Darlene) "I went on this mission trip to put my faith into action. My Bible verse for this experience is: James 2:17...Faith by itself, if it has no works is dead. So… I figured I best get out there and put my faith to work. I learned some new things, I'm not sure in their infancy that you could call them skills but, it was fun to learn and do my best. I somewhat mastered the nail gun!! The people we worked with were a great group eager to share their skills. Walking around town after supper and meeting the town's people was a highlight for me; everyone we met was so thankful for the volunteers that have and continue to come to their town to help them rebuild. We were able to leave a box of Sew and Sew dresses to be passed out at the town's clothing bank. The lady, Amy, that took the dresses said they would be put to good use and that the girls would be excited to get them. I feel God may want me to do more of this kind of mission work." (Wayne) I remembered the satisfying feeling of accomplishment of helping those in need after having gone on the mission trip to Slidell, LA after hurricane Katrina, and was hoping to get that feeling back with this trip. Whereas that trip was a weeklong rain & mud fest; a lot was accomplished with the small workforce we had. This trip was a weeklong sweatbox, with seventeen worker ants madly rushing around accomplishing a multitude of tasks in record time. I was amazed at how everything came together at the last minute, on the last day. Great planning can do that. A lot of hard work was accomplished in the five days we were there, and I think we all can feel thankful for what we did in providing comfort to at least two families in a town that has been devastated by flooding. It was depressing to see a town that was mostly boarded up, with houses being torn down daily; but the residents have a Can-Do spirit and are very grateful for any assistance. It will be interesting to see what they will accomplish in the years ahead to rebuild this community. Mike and his team have already started planning for a return trip in April and are seeking volunteers, but I doubt I will be able to join this one. The feeling of accomplishment is back and I hope to be able to volunteer with the team again in the future. 
El Grupo de Bob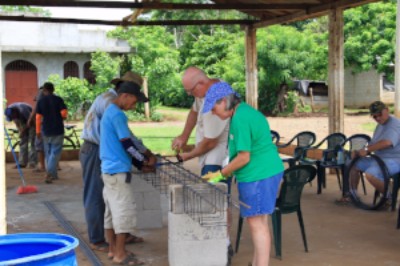 July 2017
"Grace and peace to you from God our Father and the Lord Jesus Christ." (Ephesians 1:2 NIV)
With the single exception of last year (2016), this team consisting of members from Tennessee and West Virginia (and sometimes Rhode Island - Yay Jean!) has traveled to and worked in Guatemala in the name of Jesus every year since 2003. Although some of the team members have stayed the same, there have been many newcomers through the years! Several years ago the team was affectionately called "El Grupo de Bob" by the VIM Coordinator of the Methodist Church of Guatemala. The name is a reference to retired West Virginia United Methodist pastor Rev. Robert C. (Bob) Cole.
From July 4-14, 2017 the team worked in the remote village of Nueva Covadonga, located among pineapple and sugar plantations on the Pacific coastal plains of Guatemala. It was VERY hot and humid there, but God watched over us and helped us in our work. Our primary construction job for this year was to reinforce the columns on one side of the village's new, and much needed, community building. The Guatemalan government began construction in 2011 in an effort to garner votes for incumbent politicians, but after the elections of that same year the work on the building came to a screeching halt. When an engineer hired by Fundacion Herencia Viva (the organization we partnered with this year) evaluated the building, he determined that the existing columns would not be able to support the roof when it is finally put on, so the columns on the two long sides of the building have to be reinforced. We worked on one side this year, and we hope to work on the other side next year, if the Good Lord wills it.
In addition to the substantial construction work we were able to accomplish, we also spent considerable time connecting with the good folks of Nueva Covadonga. After all, that is the main reason we go on these trips, yes? To show our love for God, and to show the love we have for our neighbors (both near and far)? The people there are very poor. We rubbed shoulders with them in work and in play, and we conducted a two-day Vacation Bible School program for the children. Some members of the team were able to visit with a few individual families, and had the opportunity to present prayer shawls and blankets to some. The prayer shawl/blanket ministry of Elm Grove UMC in Wheeling, WV is longstanding and renown. I am thankful for that group of women who so faithfully gather, lovingly make, pray over, and send their items all around the world. One member of the team is a nurse. She held a Q&A on wound care with the community health committee, and gave advanced instruction on how to properly measure a person's blood pressure.
On the weekend of the trip, the team made the two hour journey to the Pacific Ocean (down Saturday, back Sunday). The ocean wasn't that far away from where we were staying in Mazatenango, but the "roads" to the beach were not conducive to driving very fast. Once there, we enjoyed fellowship and R+R together, and on Sunday morning had the awesome and sacred privilege of celebrating the Lord's Supper near the black sand beach. After returning from the ocean, we worked two more days in the village, then we traveled to the old capital city, La Antigua, Guatemala, which is closer to the Guatemala City airport. We spent our last two nights in that beautiful place, "praising God and enjoying the favor of all the people." (Acts 2:47 NIV)
"Peace to the brothers and sisters, and love with faith from God the Father and the Lord Jesus Christ. Grace to all who love our Lord Jesus Christ with an undying love." (Ephesians 6:23-24 NIV)
Robert Dean Cole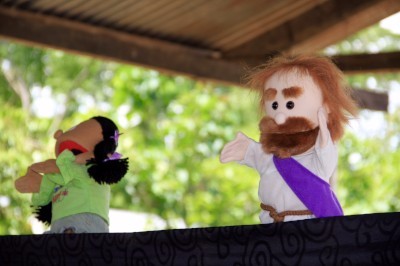 ---
UMW Ubuntu Journey to Mozambique
July 2017
Ubuntu? What does that mean? "—"I am what I am because of who we all are."
The essence of being human. Ubuntu speaks particularly about the fact that you can't exist as a human being in isolation. It speaks about our interconnectedness. You can't be human all by yourself, and when you have this quality - Ubuntu - you are known for your generosity. We think of ourselves far too frequently as just individuals, separated from one another, whereas you are connected and what you do affects the whole world. When you do well, it spreads out; it is for the whole of humanity.
I was asked to lead the Ubuntu 2017 trip to Maputo, Mozambique for the UMW. African UMW women from the North and South gathered together to learn about leadership, stories of scripture and do exercises that brought us together.  The American team consisted of 7 women from all over the US and one from Cameroon. We had two days of workshops, one day of travel to TingaTinga to visit a Methodist program that worked with children that was very informative and where we shared a meal with them as they entertained us with their singing and dancing.
 The team also was divided to visit 3 churches on Sunday in Maputo to share in the services, and there was also one day to do some shopping and site seeing.
New culture experiences and food were part of the highlight of the trip. I am very thankful to my hosts Rev. Victoria Cheifche and Alzira Isaac also to the Bishop's assistant Joao Sambo and his wife Delia who were our interpreters and driver for one day. We did get to meet the Bishop but it was at the airport in Johannesburg. She told us she knew we were Americans because we weren't bundled up. She had just come from a meeting and was on her way home to Mozambique.  After returning home she came down with a cold and that was our only meeting with her. We pray her cold was short lived.
It was a great experience and one more African country that captured my heart.
To see more pictures you can go to my Facebook Page Sandy Rowland Binotto
If you are interested in going on a Ubuntu trip you can gather the information on the website. http://www.unitedmethodistwomen.org/ubuntu  2018 trips are now being formed.
There is also a need for VIM teams in Maputo. If interested you may contact me for more information.
Sandy Binotto